Best Camera Drone in 2014
Best camera drone web site is here to determine which camera drone is practical, with high up to date technology (2014),  affordable to purchase, and easy to operate in various environments and requirement needs.  Also which brand is innovative and actively improving the performance and the quality of their products. Here is a list of some of the possible UAV user needs.
Hobbyist without any specific requirements
Photographer with very specific quality requirements
Still image photography needs
Video recording from high up above needs
Property and building structure inspection and surveillance needs
DJI Phantom Vision 2 camera UAV
DJI Phantom Vision 2 is versatile, affordable, easy to operate with many high technology benefits. Here are some of them.
Stock standard Integrated 14MP camera with 1080p HD video recording on a micro SD card.
Wi-Fi streaming of video and telemetry to the free Vision app for IOS or Android.
Wi-Fi signal extender performs live remote video streaming from up to 300 meters away.
 The integrated camera tilt motor will automatically compensate, for the Phantom's single-axis motion by tilting the camera for smoother video, and it's manually controllable via the Vision app
Flight time improved up to 25 minutes on a single charge using the included 5,200-mAh lithium polymer (LiPo) battery.
The Phantom 2 Vision can be alternatively installed with a GoPro camera and a multi axis gimbel mount for more professional quality video recording.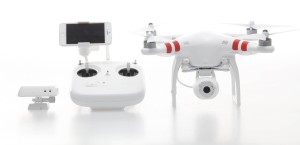 Phantom Vision with a Zenmuse H3-D2 Camera Gimbal.
This package is the alternative for those that want to have the best quality video recording quality possible from the DJI Phantom kit. Please read the previous article on the Zenmuse Gimbal benefits, available from this web site.
GoPro Camera not included in the kit.
DJI Phantom Vision 2 Kit with the extras.
Here are some other things to consider if you are using the Camera Drone for profession use many hours per each day.
They need to be replaced with freshly charged batteries or re-charged every so often, but it also takes time to do so, and if flying at a remote location, there may not be any available power to charge with.  In that case extra batteries are needed.  There are also other alternative battery solutions available, more on that later.
Propeller guards are very practical things to have, they protect the drone from dropping out of the sky if you happen to bump into a wall, tree or a power line/ pole. The guard prevents the propellers from being stopped by an stationary object, even a flying object like a bird if it happens.
UAV carry case for vehicle protection
A flight case is a must if you use it regularly, it not only protects the UAV from being damaged amongst other luggage but also makes the set up and the pack down more effective and reliable. It will contain all the components that you will need for that particular event or a flight mission.
Here are two options to consider. One is larger of the two with more capacity for extra batteries and other accessories.
The smaller version of the case is this one.

Here is the DJI Phantom Vision 2 Kit with the Extras in one scoop.
Thank you for visiting and reading more on the Best Camera Drone in 2014, more information becoming available soon.
Remember always to thoroughly familiar with the UAV that you have decided to purchase before attempting to fly it. That is the best way to save your self a headache and heart pain.Use the propeller guards, and fly at a open free space with no traffic, trees,  open water other obstructions that can take away your pride and joy.
Learn and know the control technique instructions well before hand, and don't gamble with the safety of the UAV, be confident that you know how to fly it and how to control it with confidence. See video instructions at this web site http://bestcameradrone.com for more details.
Happy New Year and keep posted in 2014 at Best Camera Drone.Net